超伝導スピントロニクス (Superconducting spintronics)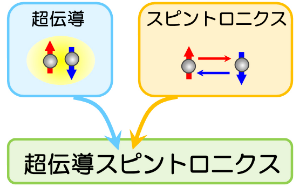 代表的な量子効果である超伝導現象とスピン流を組み合わせることで、新しい量子現象の観測・制御を目指します。
参考文献
Spin transport measurements in metallic Bi/Ni nanowires
M. Tokuda, N. Kabeya, K. Iwashita, H. Taniguchi, T. Arakawa, D. Yue, X.-X. Gong, X.-F. Jin, K. Kobayashi, and Y. Niimi*,
Applied Physics Express 12, 053005 (2019).
Quasiparticle-mediated spin Hall effect in a superconductor
T. Wakamura, H. Akaike, Y. Omori, Y. Niimi, S. Takahashi, A. Fujimaki, S. Maekawa, and Y. Otani*,
Nature Materials 14, 675 (2015).
Spin Injection into Superconductor with Strong Spin-Orbit Coupling
T. Wakamura, N. Hasegawa, K. Ohnishi, Y. Niimi, and Y. Otani*,
Physical Review Letters 112, 036602 (2014); Selected as Editors' suggestion.